He walked in expecting his request to get rejected, but a passionate employee wouldn't let that happen.
Jia Jiang is in a self-prescribed therapy program for rejection. He's trying to make such ridiculous requests that people will have to reject him. "My goal is to desensitize myself from the pain of rejection and overcome my fear," and he's recording every minute of it.
On day three of his 100-day quest to get rejected everyday, he walked into a Krispy Kreme and asked for donuts made in the shape of the Olympic rings. He didn't know that he was dealing with Jackie, who was not prepared to back down. She listened carefully to his request, thought about how she could accomplish it with her available tools, and gave the resulting Olympic donuts to him for free – as if the challenge was payment enough. If you haven't seen the video yet, watch the whole heartwarming thing above.
What went so right here? These five things, in two areas:
Create space for the customer to ask for a great experience.
1. Jackie listened.
She didn't really get what he was asking for right away – Olympic ring donuts? What on earth? But she asked about the colours, she sketched out a design to run by Jia, and she got him to articulate his crazy dream to a degree that he didn't think was possible. She figured out his needs by being an incredibly active listener.
2. She didn't say no.
She could have rejected Jia's request – that's what he was hoping for, after all. But she didn't say 'no.' She got clear on his needs, and made sure that she could implement them, and she opened up a possibility that didn't exist until she and Jia worked through what success meant.
'No' is the most final answer – but even if she had been skeptical or dismissive, the average customer never would have felt comfortable enough to ask for something crazy awesome. Jackie resisted the urge to say that he was asking for too much. Because of that openness, combined with her great listening skills, Jia had the opportunity to articulate what would make his day truly great.
Deliver on your promise, even if the customer doesn't think it's possible.
3. She didn't try for perfect.
It's easy to get caught up in the demands of a perfect product. For task-oriented people, sometimes the challenges of flawless execution can cloud the steps necessary to get something done on time. What's more, because Jackie asked Jia about how much time he had, she knew that timeliness mattered more than perfection for him. "It's the best I could do with what we've got." It was by far good enough.
4. She didn't ask for money.
At 4:20 in the video, Jia asks where he can pay – and Jackie says "that one's on me." Seriously. And if you think that was a bad business move–that Krispy Kreme should charge for its better customer experiences–then you might be looking too narrowly at the situation. It's impossible to estimate how much goodwill she generated for Krispy Kreme by that one act. It's definitely worth far more than $3 of donuts. She's almost certainly turned Jia into a customer for life – and he's responded by trying to get her a raise. The video of the Olympic donut request has been viewed over 1.5 million times at the time of writing – that's the sort of viral promotion that you can't pay for. And Krispy Kreme has noticed, which primes them to make lasting changes to their customer experience practices.
5. She said "that's my pleasure."
I nearly teared up at this point. As Jia points out in his conclusion, "sometimes you make a crazy request, and you get an awesome answer."
Let your customers ask for greatness
Krispy Kreme is a fast food joint that specializes in awesome donuts. They're tasty, and fresh, and known the world over. This isn't a sit down restaurant, and you probably won't think about leaving a tip. But this whole experience points out something really unexpected about building great customer experiences.
If you give your customers the space to ask for something incredible, then you'll get the chance to make it happen. And if you did the first part right – if you really listened – then you stand a good chance of giving them something great. It's not rocket science, and it doesn't have to cost more than a few donuts, but it takes openness, honesty, and the ability to execute.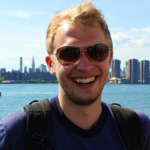 Andrew Konoff
Andrew is the editor of the GoInstant blog. He's interested in the intersection of design, tech, and good old-fashioned customer service. You can find him on Twitter as @andrewkonoff.