If you care about delighting your customers with enjoyable experiences, why would you subject them to hours of lines and the risk of death by stampede?
If you think your products are good enough to be worth selling, then why do you think it is necessary to lure people in with limited availability deals, flyers full of fine-print, and cheap junk?
If you respect your customers and employees, why would you start the madness on Thanksgiving? Why get between them and their families?
If you expect your employees to create amazing customer experiences, why would you make them give up their Thanksgiving?
Would you want to be helped by someone who doesn't want to be there?
And isn't customer experience supposed to be about empathy? So if you value listening to your customers, why aren't you listening to the ones that are saying you're going too far? That the whole experience of Black Friday is too scary, too stressful, and too inhumane?
If you read what they're saying, would you really think that Black Friday is bringing out either the best in your customers, or the best in your company?
For your customers, your employees, and everyone else watching the zoo that has become Black Friday, please. Don't open next Friday.
Photo source: AP, Barry Gutierrez.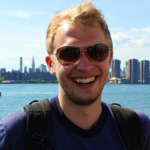 Andrew Konoff
Andrew is the editor of the GoInstant blog. He's interested in the intersection of design, tech, and good old-fashioned customer service. You can find him on Twitter as @andrewkonoff.