It's been a big year for tech startups in Halifax, and we're happy to help by sponsoring DemoCamp Halifax 2012. Taking place on Sunday, September 23rd, DemoCamp is really two events in one. If you're a startup with a great new product, it's a great opportunity to showcase what you've been developing. And if you're interested in seeing if the startup life is the life for you, there are tons of panels, talks, and people for you to learn from. On top of that, GoInstant investor Boris Wertz will be the keynote speaker, and he's got some great advice for anyone trying to raise funding in Nova Scotia.

We truly believe that Halifax is a great place for tech companies, and we're not the only ones – just look at the list of attendees. At events like DemoCamp, we get to see other believers in Nova Scotia's entrepreneurial grit, and that's something wonderful to behold.
Check out DemoCamp Halifax's site. We hope to see you there!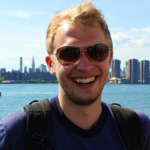 Andrew Konoff
Andrew is the editor of the GoInstant blog. He's interested in the intersection of design, tech, and good old-fashioned customer service. You can find him on Twitter as @andrewkonoff.