There is no better time than the start of a new year to make an intentional commitment to improve your brand's customer experience strategy. Doing so requires an intensive, well-organized effort supported by all members of your organization, but by starting now, you'll have something great to look back on in 2014. Incorporate any of these 6 New Year's Resolutions to see more growth in the year ahead.
1. I will treat CX as a business discipline.
For many companies, customer experience is nothing more than a bumper sticker phrase. If your CX strategy is all talk and no action, 2013 is the year to change that. Don't just say you're going to improve customer experience and leave it at that. Formulate and implement a specific action plan to do so. Treating CX like a slogan might bring you warm fuzzy feelings, but it won't bring you profits.
2. I will define my CX strategy.
You can't come up with a specific action plan until you've defined your strategy. Describe the experience you intend for your customers and develop an approach that aligns with your brand, your corporate vision, and your budget.
3. I will invest more into my CX strategy.
You might be a little hesitant to invest funds in customer experience if you're not sure you'll see a return on that investment. But the fact is, a good CX drives customer loyalty and improves customer retention, which translates to cost savings and higher profits in the long run.
4. I will learn more about my customers.
A better customer experience starts with customer understanding. Get to know your customers by putting yourself in their shoes and teach others within your organization to do the same.
5. I will engage my employees.
Getting to know your employees is just as important as getting to know your customers, since they are the ones who interact with customers the most. Engaged employees will engage with customers because they want to provide them with a better experience. Communicate your core values, align employees with your CX strategy and empower them to accommodate your customers' needs.
6. I will measure CX across all touch points.
There's no use investing time, money and effort into bettering CX if you don't measure the return on that investment. Continue to collect and analyze customer experience data at all touch points while you're improving your strategy. Key metrics include loyalty, retention and customer satisfaction.
No matter where you are in your efforts to improve customer experience, you can rest assured that taking steps to do so will result in growth for your organization and happiness for your customers. These resolutions will have you well on your way.
Here's to 2013. May it be your best year yet.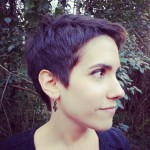 Selwa Lukoskie
Selwa is a copywriter and musician with an entrepreneurial spirit. She is interested in art and business and how the two intersect to create awesome life experiences. You can find her on Twitter at selwaluke.