Yesterday night, the GoInstant office was in full-alert mode for the first of our relaunched Hackathons. Every two weeks, we take an evening to build hacks: small projects that can make a serious difference for our product, our work processes, or GoInstant's image. Really, anything cool that can help GoInstant is fair game. And more than just being productive, we wanted to make it a fun night – complete with pizza, prizes, and ping-pong – and we think we succeeded. Neal had the winning hack, and was awarded a wonderful My Little Pony figurine.
If you're excited by what you see, you'll be happy to know that we're hiring for tech positions. As you can see in the video, we're awfully close to the beautiful Halifax waterfront, and we really do have a ping-pong table. There are a bunch more perks to being a part of the team, so check them out on our Careers page.
Song credit: Beautiful Things by Ming & Ping.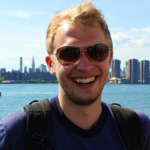 Andrew Konoff
Andrew is the editor of the GoInstant blog. He's interested in the intersection of design, tech, and good old-fashioned customer service. You can find him on Twitter as @andrewkonoff.